The Latest News At Welland Toyota!
Welland Toyota Joins Brock University's Service-Learning Community Partner
April 2018 -- Welland Toyota is proud to be a Service-Learning Community Partner with Brock University Goodman School of Business. This program connects students with businesses during course study which allows business students to gain practical experience while applying the skills and knowledge from their course content. Congratulations 4th-year marketing students who presented Welland Toyota as their business research project. Below (from left to right): Gregor Sayliss, Anthony Foster, Professor Kai-Yu Wang, Meggy Martin-Johnson, Ankush Malhotra, and Matthew Dosky.
Below: Students Anthony Foster and Matthew Dosky with Pre-owned Sales Manager Drew Etherington during a visit to Welland Toyota.
Welland Toyota Welcomes David Clarke
Welland Toyota would like to welcome our new Product Advisor, David Clarke who has returned to us after a three-year adventure of traveling to Australia, New Zealand, and all over Southeast Asia. David has over 10 years experience in automotive sales. He also holds a Police Foundations diploma from Niagara College and has diverse training in mixed martial arts. He has earned a purple belt in Brazilian Jiu-jitsu, and is skilled in Muay Thai and kick boxing! When asked what he has learned through his training, David says, "Mixed martial arts has taught me a lot about discipline. My favourite quote that really got me to class five or six times a week, even when I didn't think I had the energy to go is: "when lacking motivation rely on discipline," That simple quote got me to class almost every day!"
We are glad to have David back and he looks forward to catching up with his previous customers as well as meeting new ones. Come in and meet our latest member of our sales team and don't forget to congratulate David on his recent engagement! You can reach David at (905) 788-2200 #263 or email him at dclarke@welland.toyota.ca
Above Left: David and his fiancé Amy at Ben Lomond Track in Queenstown, New Zealand. Above Right: David carrying Amy over water in Copland Track, New Zealand
Welland Toyota Welcomes Dan Gracez
Welland Toyota would like to announce our new Sales and Leasing Consultant, Dan Gracez, as part of our growing sales team. Dan joins us with an impressive 35 years of experience in the automotive industry and a B.Commerce degree from Concordia University. He also loves golf, has played competitive squash and has played on a hockey team for over 40 years. Dan has a passion for cars and currently drives a 2018 Toyota C-HR!
Drop in to chat with Dan or you can contact him at (905) 788-2200 #263 or email him at dclarke@welland.toyota.ca

Above: Dan Gracez, Sales and Leasing Consultant, Welland Toyota and his new 2018 Toyota C-HR
Congratulations Anna Havlin of Fonthill
Anna won a new Toyota Camry through Tim Horton's Roll Up the Rim Contest! Here's Anna getting the keys from Welland Toyota Sales Manager Rick Fauteux.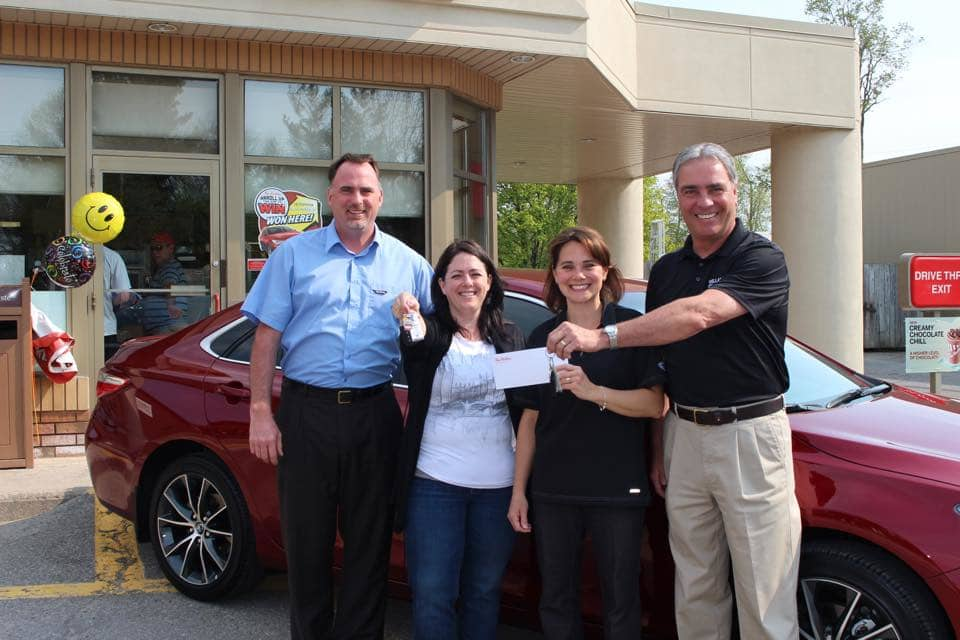 Toyota Earns #1 spot
http://www.wellandtribune.ca/2015/03/10/biz-buzz-welland-toyota-changes-hands
http://mediaroom.kbb.com/
Welland Toyota becomes 3rd Toyota stores in Canada to become LEED Gold Certified
http://media.toyota.ca/pr/tci/en/welland-toyota-becomes-third-toyota-245315.aspx
Toyota Dealer Prepares for new location
http://www.niagarathisweek.com/news/article/807878--car-dealer-preps-for-new-digs
Groundwork Set for New Toyota Dealership
http://www.wellandtribune.ca/