Brock University Business Students and Welland Toyota Team Up for Another Community Partnership Project
Students Develop Simple Software App for Service Department
November 2018 - BROCK Information Systems and Information Technology Students teamed up to work on a community partnership project with Welland Toyota again this year. The project involved Goodman School of Business students who came into the dealership to research our service department in order to understand scheduling, data management and software capacity. They then spent the term developing an information system app based on the needs of this sector.
The app was successfully presented at the final of the first term before the class and Professor Francine Vachon. Welland Toyota is once again happy to participate in this Learning Partner initiative by Goodman School of Business which allows students to work with various Niagara businesses for case studies and assignments. Congratulations to the team!
Patrick Clarke, David Clarke and Niels Pedersen
Welland Toyota's Mo-team is Raising Awareness During Movember
Help Patrick, David and Niels with their Movember Campaign here!
We are asking for your contributions for our Mo-team, Patrick Clarke, David Clarke and Niels Pedersen, who are growing their mustaches as they raise funds for men's health this month.
Any amount would help this great cause. Proceeds will benefit the Movember Foundation which aims to improve quality of life for young men, focusing on issues of  prostate cancer,
testicular cancer, mental health and suicide prevention.
Visit their page here and please donate. Any amount can help!
Niels Pedersen
General Manager, Welland Toyota
Welland Toyota Welcomes Niels Pedersen
Welland Toyota is pleased to announce Niels Pedersen as General Sales Manager. Niels will be in charge of managing the recent growth in sales activity at Welland Toyota and will be responsible for the sale of new Toyota vehicles as well as pre-owned cars and trucks of all makes and models.
Niels comes to us with an array of impressive experiences in the automotive industry having worked in the businesses since he was 12-years old! He has specific knowledge of the Toyota brand and has managed at a senior level for retail dealerships for over 20 years. He is a graduate of the National Automotive Dealership Association Academy's General Dealer Management Program in McLean, Virginia.
As a resident of Sherkston, Niels says he loves working and living in the region and chose Welland Toyota because it subscribes to a customer focused approach to business. He adds, "We are not in the car business, we are in the people business! People taking good care of people."
In addition to his talents in the automotive industry. Niels is also an accomplished keyboard player and song writer! You can see a preview of Niels's talents from this piece he composed for the Shaw Festival Theatre below!
Niels currently loves driving a 2018 RAV4 Platinum.
We invite you to drop by to welcome Niels or you can contact him at Welland Toyota at (905) 788-2200 or neils@welland.toyota.ca
The Latest News At Welland Toyota!
Welland Toyota Joins Brock University's Service-Learning Community Partner
Welland Toyota is proud to be a Service-Learning Community Partner with Brock University Goodman School of Business. This program connects students with businesses during course study which allows business students to gain practical experience while applying the skills and knowledge from their course content. Congratulations 4th-year marketing students who presented Welland Toyota as their business research project. Below (from left to right): Gregor Sayliss, Anthony Foster, Professor Kai-Yu Wang, Meggy Martin-Johnson, Ankush Malhotra, and Matthew Dosky.
Below: Students Anthony Foster and Matthew Dosky with Pre-owned Sales Manager Drew Etherington during a visit to Welland Toyota.
Welland Toyota Welcomes David Clarke
Welland Toyota would like to welcome our new Product Advisor, David Clarke who has returned to us after a three-year adventure of traveling to Australia, New Zealand, and all over Southeast Asia. David has over 10 years experience in automotive sales. He also holds a Police Foundations diploma from Niagara College and has diverse training in mixed martial arts. He has earned a purple belt in Brazilian Jiu-jitsu, and is skilled in Muay Thai and kick boxing! When asked what he has learned through his training, David says, "Mixed martial arts has taught me a lot about discipline. My favourite quote that really got me to class five or six times a week, even when I didn't think I had the energy to go is: "when lacking motivation rely on discipline," That simple quote got me to class almost every day!"
We are glad to have David back and he looks forward to catching up with his previous customers as well as meeting new ones. Come in and meet our latest member of our sales team and don't forget to congratulate David on his recent engagement! You can reach David at (905) 788-2200 #263 or email him at dclarke@welland.toyota.ca
Above Left: David and his fiancé Amy at Ben Lomond Track in Queenstown, New Zealand. Above Right: David carrying Amy over water in Copland Track, New Zealand
Welland Toyota Welcomes Dan Gracez
Welland Toyota would like to announce our new Sales and Leasing Consultant, Dan Gracez, as part of our growing sales team. Dan joins us with an impressive 35 years of experience in the automotive industry and a B.Commerce degree from Concordia University. He also loves golf, has played competitive squash and has played on a hockey team for over 40 years. Dan has a passion for cars and currently drives a 2018 Toyota C-HR!
Drop in to chat with Dan or you can contact him at (905) 788-2200 #222 or email him at danny@welland.toyota.ca

Above: Dan Gracez, Sales and Leasing Consultant, Welland Toyota and his new 2018 Toyota C-HR
Congratulations Anna Havlin of Fonthill
Anna won a new Toyota Camry through Tim Horton's Roll Up the Rim Contest! Here's Anna getting the keys from Welland Toyota Sales Manager Rick Fauteux.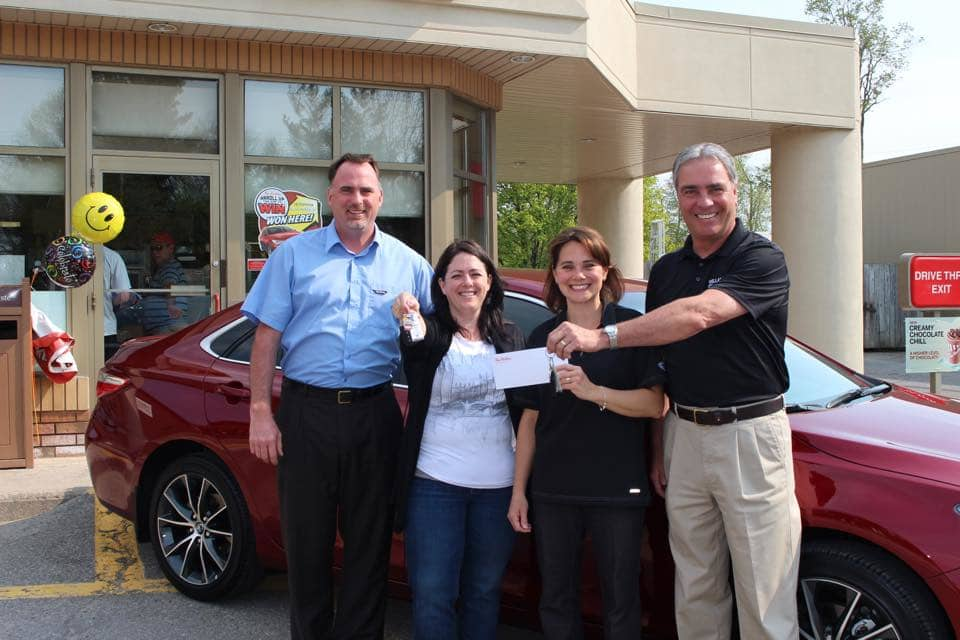 Toyota Earns #1 spot
http://www.wellandtribune.ca/2015/03/10/biz-buzz-welland-toyota-changes-hands
http://mediaroom.kbb.com/
Welland Toyota becomes 3rd Toyota stores in Canada to become LEED Gold Certified
http://media.toyota.ca/pr/tci/en/welland-toyota-becomes-third-toyota-245315.aspx
Toyota Dealer Prepares for new location
http://www.niagarathisweek.com/news/article/807878--car-dealer-preps-for-new-digs
Groundwork Set for New Toyota Dealership
http://www.wellandtribune.ca/